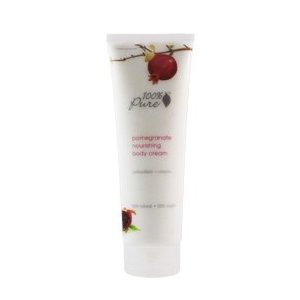 How long have I been using it?
A couple weeks
How does it preform?
I'm super disappointed with this product. I have a bit of dryness on my legs and arms, nothing too bad, but I also have ridiculously dry hands. This did absolutely nothing for my hands other than make them smell weird. I would say it help a bit with dryness on my legs and arms, but I want something that's lasting and that actually improves my skin over time not something that will just solve it temporarily and have it be the exact same condition as before after it's worn/washed off.
Scent:
Weird...It's supposedly supposed to be pomegranate scented, at least that's what's in the title of the product. But I think it smells like fruit punch, and if I didn't know any better I'd have thought this was synthetically scented because of how "cheap" it smells, know what I mean?
Packaging?
Comes in a squeeze tube, which I like better than a tub, but would probably preferred a pump bottle, since I mainly use lotion for my hands. But I understand this would be a bit too thick for that.
How long does it last?
Since I have to keep reapplying over and over to get any sort of benefit from it, I'm expecting this to not last that long, Which is OK by me since I want to get rid of it and try a new one.
Where do I get it?
I got it from their website
Here
. I have seen other online retailers sell it as well. It's a bit pricy for what you get IMO.
The nice thing about their website is that they have a free shipping option if you spend over a certain amount for both Canada and the US. Which is great for me since I live in Canada and I usually have to pay quite a bit in shipping.
Repurchase?
I will not repurchase this lotion, but I am using some other 100% Pure products that I'm liking so I would use the Brand again.
Ingredients:
Aloe Juice1, Rose Hydrosol2, Cocoa Butter, Avocado Butter, Grapeseed Seed Oil, Rosehip Seed Oil3, Candelilla Wax, Blackcurrant Oil, Vitamin E, Vitamin C, Pomegranate Seed Oil, Pomegranate Flavor, Organic Green Coffee4, Organic Wild Cherry5 Pomegranate, Organic Raspberry5, Blackberry and Organic White Tea3, Citric Acid, Witch Hazel, Japanese Honeysuckle, Rosemary, Oregano, Thyme and Goldenseal, Grain Alcohol, Acai Berry, Resveratrol, Organic Green Tea3, Mangosteen, Goji Berry, Maqui Berry, Elderberry and Muscadine Grape