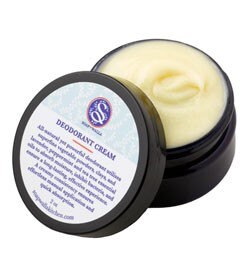 How long have I been using it?
About a month
How does it preform?
This is by far the best all natural deodorant I've tried. Keep in mind that it's a deodorant and NOT an antiperspirant. It's job is to keep you from smelling, it does not stop you from sweating. Antiperspirants contain a lot of harmful chemicals and for a long time I didn't think I could ever switch to a natural deodorant because of my own issues with sweat and the first week of using Soapwalla I almost gave up. I'm glad I stuck to it though, because I realized soon after started to use this that it was awesome. I think my body freaked out a bit though when I first switched because it seemed like I started to sweat a lot more, but it calmed down after I kept using it.
It keeps me smelling fresh throughout my long day. I get up around 5am in the morning, shower, then apply a small amount to the pits. I let it absorb a bit while I do my hair etc and then get dressed. It usually lasts until I go to bed at 10pm. I say usually because I do sometimes go to the gym during my lunch break at work. If I do a particularly hard work out I felt like I should reapply even though I never actually smelled like I needed to, but the trouble is I never bring it with me to the gym because of the packaging of this (which I'll get to in a sec).
The only performance issue I had with this was a little bit of irritation. After about 3 weeks I noticed a bit of irritation. It wasn't bad, but I have seen on other reviews that this is more likely to happen after you shave. It's only happened once or twice so I'm not too concerned about it, but I do think that people with sensitive may want to watch out and dilute it or something.
Use/Packaging?
To use it's pretty simple, you just gob a little on your finger and rub it into the pits. On the little thing I got with it, it does say the ingredients can separate and you might have to stir it to remix. Or it could melt and then you could put it in the fridge to reset. But so far I've not experienced the need to do either.
The packaging I do not enjoy. It's comes in a jar/tub and you have to put your fingers right in it which I don't like. It's also not convenient for the gym. I do so wish that Soapwalla will figure out a way to put this into some kind of stick or tube.
Scent: To me it smells a bit like Tea Tree Oil with a hint of orange-y-ness to it. I'm not a huge fan of the scent, but it's not super overpowering. I may get a few whiffs of it throughout the day, but for the most part I don't notice it's there.
How long does it last?
The 2oz jar I have is still more than half full. I went a little overboard applying it when I first got it, and I now realize I don't need as much as I first thought so it should last a fair bit.
Where do I get it?
I bought it for $12.00 from Soapwalla's store on Etsy
here
It's a little more pricy than you'd pay for drug store deodorant/antiperspirant, but I guess it's worth it for the peace of mind.
Other retailers do sell it as well such as Spirit Beauty Lounge
Ingredients:
Organic jojoba, sunflower, and rosehip seed oils; shea butter; a combination of all-natural and gluten-free vegetable clays and powders; aluminum-free sodium bicarbonate; organic vegan kosher glycerin; a combination of organic lavender, peppermint, sweet orange, bergapten-free bergamot and tea tree essential oils.